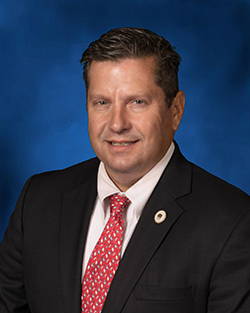 Patrick Connick is a local attorney who has been since 2008 a member of the Louisiana House of Representatives for Jefferson Parish. This fall he is running for the State Senate. The youngest boy of eight children born to Paul and Betty Connick, his elder brother is Jefferson Parish District Attorney Paul Connick. He is a nephew of former Orleans Parish District Attorney Harry Connick Sr., and a first cousin of actor/singer Harry Connick Jr.
Patrick and his wife Rhonda reside on the Westbank of Jefferson Parish in the area where the pirate Jean Lafitte use to sell his goods.
Patrick's painting technique of paint over cloth was inspired during a trip he took with his wife to Italy in 2003. On one cold January night in 2003, he entered a warm Italian restaurant located in hills of Como, Italy. As he and Rhonda dined with the chef in the empty restaurant, he noticed paintings of socks, t-shirts, underwear, etc. directly on canvas and painted over. The rest was history.
When he returned home he went to work in his garage. His first official painting was of shorts. His next was jerseys of college teams playing in the Sugar Bowl in New Orleans which he persuaded Kako Gallery to display on Royal Street during the holiday season. These works surprisingly sold.
Soon after other jersey paintings were put on display in the Louisiana State Capitol, some even in Mexico. Today Patrick focuses on painting sports memorabilia which includes items of sports legends such as Drew Brees, Payton Manning, Alvin Kamara, Anthony Davis as well as members of other professional and collegiate teams who have played for New Orleans professional teams or visited Louisiana during the football and basketball seasons. He hopes you enjoy hiswork.